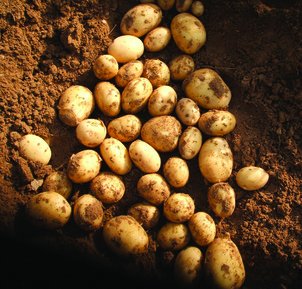 Electra
EXCELLENT STORING TABLE POTATO WITH LARGE FIRM TUBERS WITH GREAT TASTE.
Parentage

C1992 x Picasso

Breeder

Irish Potato Marketing

Breeder's Representative

Irish Potato Marketing

Maturity

Early main season

Yield

Medium yield

Tubers

Oval shape
Light yellow skin
Yellow flesh
Shallow pink eyes

Eating Quality

Fresh market.
Boiling, Salad.

Virus Diseases

Other Diseases

High resistance to common scab and foliar blight.

PCN

Resistant to potato cyst nematodes, pathotypes Ro 1.