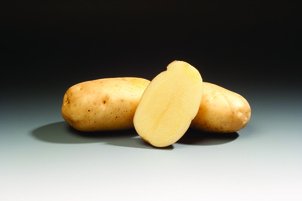 Everest
VIGOROUS GROWING EARLY TABLE POTATO WITH EXCELLENT TASTE.
Parentage

Spunta x Maradonna

Breeder

Handelsmaatschappij Van Rijn BV

Breeder's Representative

KWS Potato B.V.

Maturity

Early

Yield

Very high, early and uniform tuber sizing. It is recommended that defoliation occurs once 30-50% of tops start to die down.

Tubers

Uniform oval shape
Light yellow skin and flesh
Shallow eyes

Eating Quality

Early to early main season boiling and baking.
Potential for early season export.
Consistent colour and good taste.

Virus Diseases

Fairly good resistance to virus Y.

Other Diseases

Medium resistance to common scab.
Susceptible to foliar blight.
Good resistance to tuber blight.

PCN

Resistant to potato cyst nematodes, pathotype Ro 1.