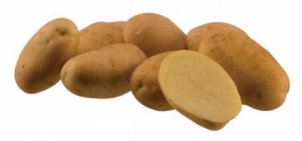 Excellent
MULTI-PURPOSE POTATO THAT MAKES "EXCELLENT" FRIES AND CRISPS AND PROVIDES A STRONG ROASTING OPTION IN THE FRESH MARKET.
Parentage

Lady Olympia x Red One

Breeder

Agrico Research, Bant, Netherlands

Breeder's Representative

Agrico, Netherlands

Maturity

Medium to late season, low sugars suit long term storage

Yield

High yield

Tubers

Medium to large tubers
Long oval regular shape
Yellow skinned with light yellow flesh
Very shallow eyes

Eating Quality

High dry matter suited for fry and crisp processing and use as a fresh market baking and roasting potato.

Virus Diseases

Resistant to potato virus Y.

Other Diseases

Moderate resistance to Late Blight. Some susceptibility to Erwinia. Resistant to Wart fysio 1.

PCN

Resistant to potato cyst nematodes RO1, 4.