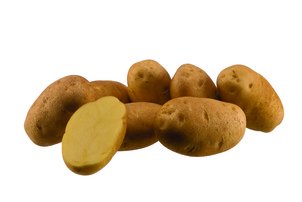 Fontane
VERY HIGH YIELDING VARIETY WITH LOW SUGARS AND LONG DORMANCY SUITABLE FOR FRENCH FRIES AND CRISPS EVEN AFTER LONG TERM STORAGE.
Parentage

Agria x AR 76-34-3

Breeder

Svalof-Weibull, Emmeloord, Netherlands

Breeder's Representative

Agrico, Netherlands

Maturity

Main crop, low sugars and long dormancy suit long

Yield

Very high yield

Tubers

Large tubers
Oval to long oval regular shape
Yellow skinned with pale yellow flesh
Very shallow eyes

Eating Quality

High dry matter and low sugars suited for fry
processing. Low acrylamide levels after processing
due to low sugars.

Virus Diseases

Fairly resistant to potato virus X and Y.

Other Diseases

Slightly susceptible to late blight. Moderately resistant
to tuber blight.

PCN

Resistant to potato cyst nematodes RO1, 4.