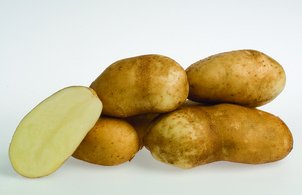 Lone Ranger
HEAVY YIELDING EARLY TO MID SEASON FRENCH FRY VARIETY.
Parentage

Ranger Russet x V394 (913/7), released as Crop 18

Breeder

NZ Plant and Food Research.

Breeder's Representative

Eurogrow Potatoes

Maturity

Early main to main crop

Yield

Very high (higher than Ranger)

Tubers

Large to very large tubers
Long oval shape
Yellow skinned with white flesh
Shallow eyes

Eating Quality

Suitable for processing into French fries. Processing
quality is excellent for early and midseason, not
suitable for long term storage. Less susceptible to
bruising than Ranger.

Virus Diseases

Other Diseases

Moderately susceptible to late blight but far superior
to Ranger Russet.
Moderately susceptible to powdery scab.

PCN

Has high resistance to pallida PCN.