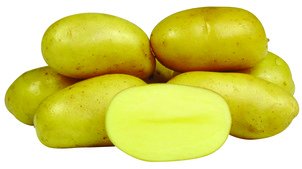 Melba
EARLY, HIGH YIELDING QUALITY TABLE POTATO WITH VERY ATTRACTIVE TUBER SHAPE AND SKIN QUALITY.
Parentage

29/90/84 L x 280/91/399/ L

Breeder

Böhm Nordkartoffel Agrarproduktion OHG, Germany

Breeder's Representative

Europlant, Germany

Maturity

Early

Yield

High

Tubers

Round-oval tuber shape
Smooth, light yellow skin
Yellow flesh colour and shallow eyes

Eating Quality

Excellent taste, very good, suitable for pre-packing.

Virus Diseases

High resistance to Potato Virus Y (PVY), moderate
resistance to Potato Leafroll virus (PLRV).

Other Diseases

Moderate resistance to late blight, good resistance
to black leg, high resistance to common scab.

PCN

Resistant to potato cyst nematodes Ro 1+4.