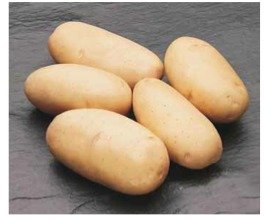 Mondial
GREAT TASTING AND HIGH YIELDING EARLY MAIN TO MAIN SEASON WASHING LINE.
Parentage

Spunta x SVP Ve 66-295

Breeder

D. Biemond B.V., Eenrum, Netherlands

Breeder's Representative

HZPC, Netherlands

Maturity

Early-main to main crop

Yield

Very high yield

Tubers

Medium uniform tubers
Long-oval to oval shape
Light yellow skin with light yellow flesh
Very shallow eyes

Eating Quality

Suitable for early main and main washing and
prepacking markets. Mondial has excellent taste.

Virus Diseases

Very good resistance to virus Y, immune from viruses
A and X, slight susceptibility to leafroll virus.

Other Diseases

Slightly susceptible to leaf blight, moderate resistance
to tuber blight.
Good resistance to common scab, moderately
susceptible to powdery scab. Only slightly susceptible
to dry rot (fusarium).

PCN

Resistant to potato cyst nematodes, pathotypes Ro 1+4.