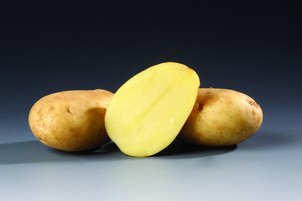 Ramos
EARLY SEASON FRESH MARKET ALSO GREAT FOR FRENCH FRY MARKET, GREAT STORAGE CHARACTERISTICS.
Parentage

Agria x VK 69-491

Breeder

Handelmaatschappij Van Rijn BV

Breeder's Representative

KWS Potato B.V.

Maturity

Medium early to medium late

Yield

High

Tubers

Large tubers
Oval to long-oval shape
Yellow skinned with pale yellow flesh
Shallow eyes

Eating Quality

Excellent taste, very suitable for pre-packing and
processing into French fries.

Virus Diseases

Moderate resistance to virus X , fairly good
resistance to leafroll virus and virus Yn.

Other Diseases

Susceptible to leaf blight, good resistance to tuber
blight.
Fairly good resistance to common scab.

PCN

Resistant to potato cyst nematodes, pathotype Ro 1 and partially Pa2.