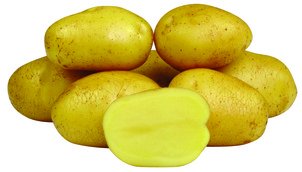 Rumba
HIGH YIELDING CRISPING VARIETY WITH VERY EVEN SIZE ALSO SUITABLE AS MULTI-PURPOSE FRESH MARKET POTATO.
Parentage

Bolesta x Mira

Breeder

Böhm Nordkartoffel Agrarproduktion OHG,Germany

Breeder's Representative

Europlant, Germany

Maturity

Medium Early

Yield

High

Tubers

Round-oval tuber shape
Yellow, slightly netted skin, cream flesh colour
Shallow to medium eye depth

Eating Quality

Crisps and fresh market.

Virus Diseases

High resistance to Potato Virus Y (PLRV) and Potato
Leafroll Virus (PLRV).

Other Diseases

Medium resistance to common scab, high resistance
to late blight.

PCN

Resistant to potato cyst nematodes Ro1 + Ro 4.