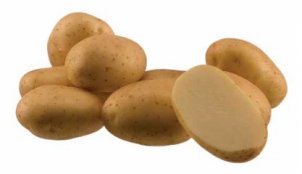 Arrow
BEAUTIFUL EARLY SEASON WHITE SKIN WASHING POTATO WITH FIRM CREAM FLESH AND FINE FLAVOUR.
Parentage

Solara x Fresco (AR 93-84)

Breeder

Agrico Research, Bant, Netherlands

Breeder's Representative

Agrico, Netherlands

Maturity

Very Early

Yield

Good

Tubers

Long-oval shape, large tubers
Smooth white skin and cream flesh
Shallow eyes

Eating Quality

Early fresh market.
Great flavor.

Virus Diseases

Fairly good resistance to virus X, fairly susceptible to virus Yn.

Other Diseases

Moderately resistance to common scab, fairly good resistance to tuber blight, susceptible to leaf blight.

PCN

Resistant to potato cyst nematode Ro1 and 4. Also resistant to Wart disease fysio 1.