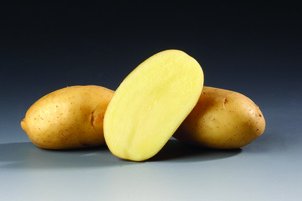 Casteline
BEAUTIFUL LIGHT YELLOW SKINNED EARLY FRESH MARKET VARIETY.
Parentage

Safrane x 85F276.S

Breeder

Bretagne Plants

Breeder's Representative

KWS Potato B.V.

Maturity

Medium Early

Yield

Fairly high

Tubers

Long-Oval shape
Light yellow excellent skin and pale yellow flesh
Shallow eyes

Eating Quality

Table fresh market.
Medium term storage.

Virus Diseases

Susceptible to virus X, A, Y and moderate
susceptibility to leaf roll virus.

Other Diseases

Medium resistance to common scab, susceptible to
leaf blight and tuber blight.

PCN

Resistant to potato cyst nematodes, pathotype Ro1.