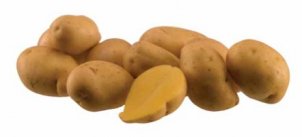 Andean Sunside
SPECIALITY POTATO WITH DEEP YELLOW FLESH SUITABLE PRIMARILY FOR FRESH CONSUMPTION, POTENTIALLY AS A SWEET POTATO SUBSTITUTE.
Parentage

ARD 89-1402 x ARD 88-883 (ex Phureja)

Breeder

Agrico Research, Bant, Netherlands

Breeder's Representative

Agrico, Netherlands

Maturity

Late season, but not suited to long term storage

Yield

Good, but avoid heavy soil types and stress

Tubers

Small to medium tubers
Round oval shape, somewhat irregular at times
Yellow skinned with yellow flesh
Shallow eyes

Eating Quality

Exceptional taste
Very suitable for pre-packing
Speciality fresh market floury potato
Potential as a sweet potato substitute.

Virus Diseases

Susceptible to potato virus Y.

Other Diseases

Good resistance to Erwinia and Late Blight.
Susceptible to common scab.

PCN

Not resistant to potato cyst nematodes or potato wart.