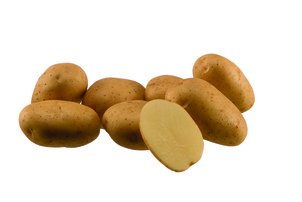 Fianna
DROUGHT TOLERANT CRISPING POTATO ALSO SUITABLE FOR MASHED POTATOES.
Parentage

KO 62-660 x AM 64-2

Breeder

J.P.G. Könst, Netherlands

Breeder's Representative

Agrico, Netherlands

Maturity

Main crop to late main crop

Yield

Very high, even under drought conditions

Tubers

Medium to large tubers
Oval shape
Cream skinned with creamy-white flesh
Shallow eyes

Eating Quality

Suitable for crisps and mashed potatoes. Fianna
has high dry matter content

Virus Diseases

High resistance to virus Y and A. Moderate
resistance to leafroll virus.

Other Diseases

Moderate resistance to leaf blight and good
resistance to tuber blight.
Good resistance to common scab, very resistant to
powdery scab.

PCN

Resistant to potato cyst nematodes, pathotypes Ro 1+4.