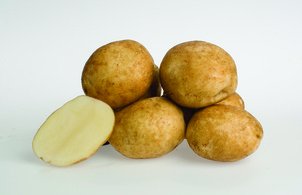 Karaka
VERSATILE EARLY SEASON ALL PURPOSE POTATO SUITABLE FOR PRE-PACKING AND PROCESSING INTO FRENCH FRIES.
Parentage

002/9 x V394

Breeder

NZ Plant & Food Research

Breeder's Representative

Eurogrow Potatoes

Maturity

Second early to early main crop between Ilam Hardy and Moonlight

Yield

Very high. For best results care must be taken to keep soil moisture levels up to avoid tuber growth cracks.

Tubers

Medium to very large tubers
Oval to oval round shape
White skin and white flesh
Shallow eyes

Eating Quality

Nice flavour suited to all uses from baking through
boiling and mashing. Very suitable for pre-packing and
processing into French fries. Processing quality is
excellent both from fresh harvest and short term
storage (no later than June).

Virus Diseases

Medium resistance to virus Y and A, slightly
susceptible to virus X, moderate resistance to leafroll
virus.

Other Diseases

Medium resistant to leaf blight, good resistance to
tuber blight. Moderate resistance to common and
powdery scab. Good resistance to bacterial soft rot.

PCN

Highly resistant to potato cyst nematodes both pathotypes Globodera rostochiensis and Globodera pallida. G. pallida is the more commonly found species in Pukekohe.