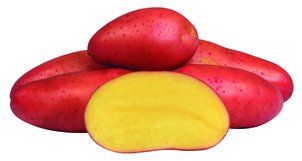 Red Fantasy
VERY HIGH YIELDING RED SKINNED TABLE POTATO WITH SMOOTH SKIN, DEEP YELLOW FLESH COLOUR AND VERY FRESH TASTE.
Parentage

Laura x Miriam

Breeder

Böhm Nordkartoffel Agrarproduktion OHG, Germany

Breeder's Representative

Europlant, Germany

Maturity

Medium Early

Yield

High

Tubers

Oval to long-oval tuber shape
Smooth red skin, shallow eyes and deep-yellow
flesh colour

Eating Quality

Fresh market and pre-packing.

Virus Diseases

High resistance to Potato Virus Y (PVY), high
resistance to Potato Leafroll Virus (PLRV).

Other Diseases

High resistance to common scab and good
resistance to tuber blight.

PCN

Resistant to potato cyst nematodes Ro1 + Ro 4.