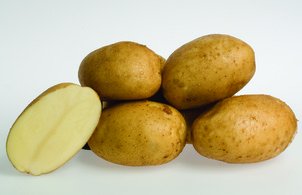 Moonlight
VIGOROUS GROWING, HIGHLY VERSATILE POTATO SUITABLE FOR PRE-PACKING AND PROCESSING INTO FRENCH FRIES.
Parentage

1463.1 x V394

Breeder

NZ Plant & Food Research

Breeder's Representative

Eurogrow Potatoes

Maturity

Early main to main crop

Yield

Very high

Tubers

Large to very large tubers
Oval to long oval shape
White skin and white flesh
Shallow eyes

Eating Quality

Very suitable for pre-packing and processing into
French fries. Processing quality is excellent after
medium term storage. Has excellent dormancy that
assists with export shipping.

Virus Diseases

Medium resistance to virus Y and A, slightly
susceptible to virus X, moderate resistance to leafroll
virus.

Other Diseases

Moderately resistant to late blight, good resistance to
tuber blight.
Highly resistant to common and powdery scab.
Good resistance to bacterial soft rot.

PCN

Highly resistant to Ro 1+4 and moderately resistant to Pa 2+3.