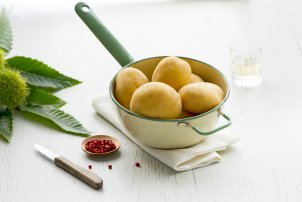 Bellinda
PREMIUM SALAD POTATO WITH EXCELLENT SUITABILITY FOR WASHING AND PACKING.
Parentage

287/89/128 x Belana

Breeder

Böhm Nordkartoffel Agrarproduktion OHG, Germany

Breeder's Representative

Europlant, Germany

Maturity

Medium Early

Yield

High

Tubers

Long-Oval shape
Yellow to deep yellow flesh colour
Shallow eyes

Eating Quality

Salad potato, excellent culinary quality.
Very good suitability for washing and packing.

Virus Diseases

Medium resistance to Potato Virus Y (PVY), very high
resistance to Potato Leafroll Virus (PLRV).

Other Diseases

Medium to high resistance to common scab, high
resistance to late blight and to black leg (Erwinia spp.).

PCN

Resistant to potato cyst nematodes, Ro 1 + Ro 4.